Inspiration at the quilt shop.
Recently my mom and I visited a quilt shop near my home town. I love patronizing new shops, checking out their fabric selection and most of all drooling over their shop sample quilts on display. This shop had many samples in several styles, but what caught my eye was the fact that many of these quilts were quilted with what seemed to be an oversized edge to edge design. I loved the soft look to these quilts and how the large scale pantographs took a back seat to the beautiful piecing and fabrics. And right then I had and epiphany, a solution to something I had been stewing over. I have always wanted to provide an affordable service as well as offering artistic and custom quilting for those who want something extra special. 
Let's simplify longarm quilting and make it more affordable.
Are you frustrated with the cost of longarm quilting? You are not alone. When I ask my social media followers what is holding them back from hiring a longarm quilter, cost is the #1 response every single time.  Most quilters are eager to hire out quilting because of the amount of time it takes to hand quilt and the cumbersome nature of quilting on a domestic machine. You can't ignore the fact that a quilt needs quilting. It's the very definition of the creation to have layers of fabric and batting sew together to create a warm blanket. Some quilters love finishing their own quilts but for others it's a necessary evil that they are happy to let someone else do. Often times they don't want to think about one more step especially when the possibilities are endless. But what if there were just a handful of amazing options and the price was reasonable? That sounds like a pleasant experience. Keep reading my friends because I have curated a wonderful collection of pantographs that I can offer to you at a budget friendly price. These pantographs are amazing designs that work well with many quilting styles. There is truly something for everyone here. I can offer these pantographs at a discounted price when they are scaled "oversized." You will love the large scale of these pantographs and how soft and fluffy your quilt feels with less quilting.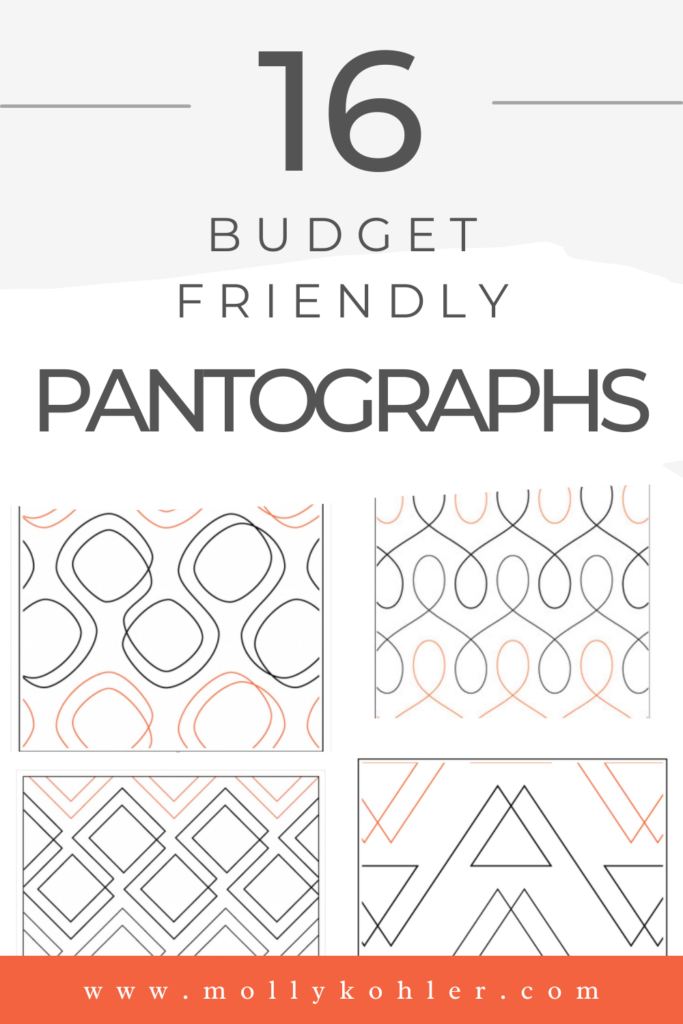 What I mean by Oversized Scale
Did you know that most longarm quilting software allows the quilter to change the scale of a design to perfectly fit the quilt? It's true and it's very easy to do. One of the worst mistakes I see are when the pantograph and the piecing fight against each other due to them being scaled too closely to each other. Instead of the quilting adding a great texture, it looks as if the design just didn't line up quite right with the piecing. As quilters we avoid this by scaling our designs larger or smaller than the piecing. Another thing we need to consider is that most battings have a minimum quilting distance of around 6″.  My budget quilting designs will be my best rate when they are scaled very large, or oversized. Most designs will be scaled to have a vertical repeat of 12." Some will require slightly smaller scale which will determined based on the pantograph the the piecing of each quilt. I will scale the design to fit your quilt and keep it in the budget price!
I haven't counted the number of pantographs available to digital quilters but there are thousands and I have personally spent hours online looking through websites trying to narrow down which ones I should purchase and use for a particular quilt.  You don't want to do that. You need to make dinner, and start your next quilting project. I have made it easy for you. Here are 16 designs that cover a wide variety of quilting styles. Each is beautiful and each one will look amazing quilted on an oversized scale.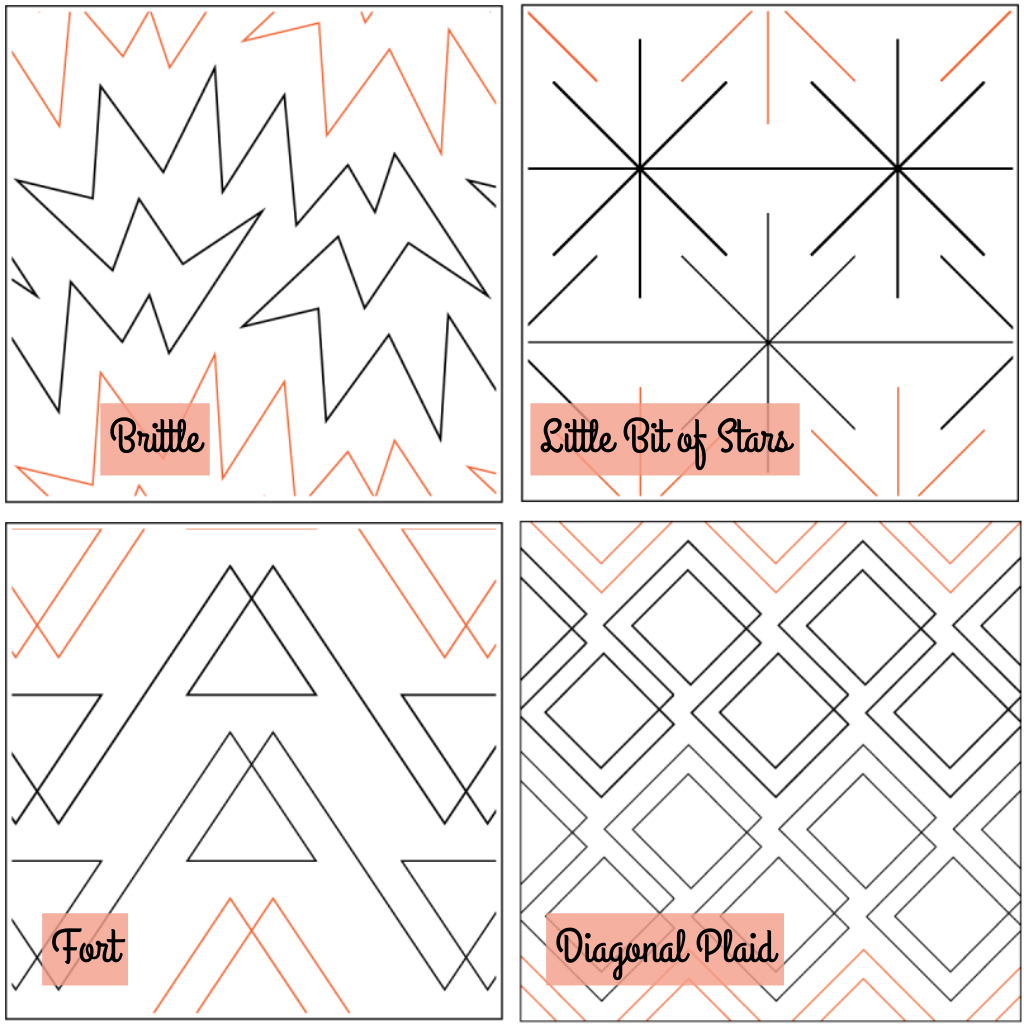 BRITTLE:  This is the most dynamic design I offer as a budget friendly pantograph. I imagine this design on toddler and teenage boy quilts. I would look great on a quilt made of solids and will liven up a basic patchwork design. Would be great on a T-shirt quilt or anything that needs a little pizzaz.
LITTLE BIT OF STARS: Let's add some sparkle to your quilt with this fun pantograph. I see sparklers on the fourth of July, twinkling Christmas lights, asterisks, and even a hint of a flower in this design. 
FORT: Perfect for that triangular shaped pieced quilt but works well on other quilting shapes too. This one reminds me mountains, and teepees, and chocolate chips. 
DIAGONAL PLAID: The most classic of all the classic quilt designs. This one reminds me of a cross hatch but it's even better because there are no touching points to line up. This is my go to for t-shirt quilts as well as anything manly.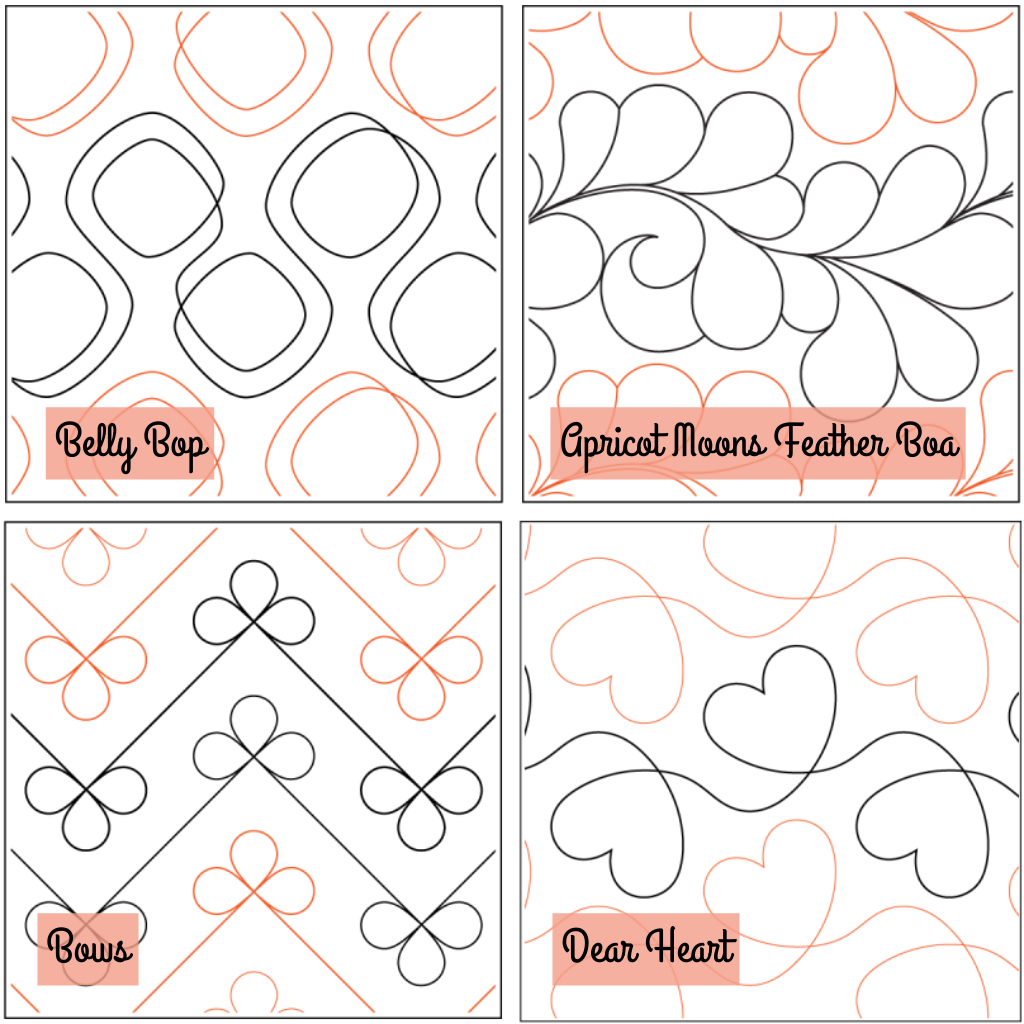 BELLY BOP: How can you not love a pantograph with a ridiculous name like Belly Bop? Those curved squares get me every time. This pantograph has the perfect amount of structure combined with movement. I would choose this for both modern and traditional quilts. 
APRICOT MOON'S FEATHER BOA:  Feathers: you love them or hate them am I right? This type of design has been around for ages. It is sure to make your quilt feel just a little bit fancier. 
BOWS: I have always adored this specific pantograph and when I saw quilted on an oversized scale I knew it was perfect for my budget conscious customers. It's got great direction and a friendly little petal shape topping it off. 
DEAR HEART: Love is always in season and so are hearts. This emotional shape can be quilted on most styles of quilts, not just heart quilts. Adding this pantograph to a gifted quilt adds an extra layer of love.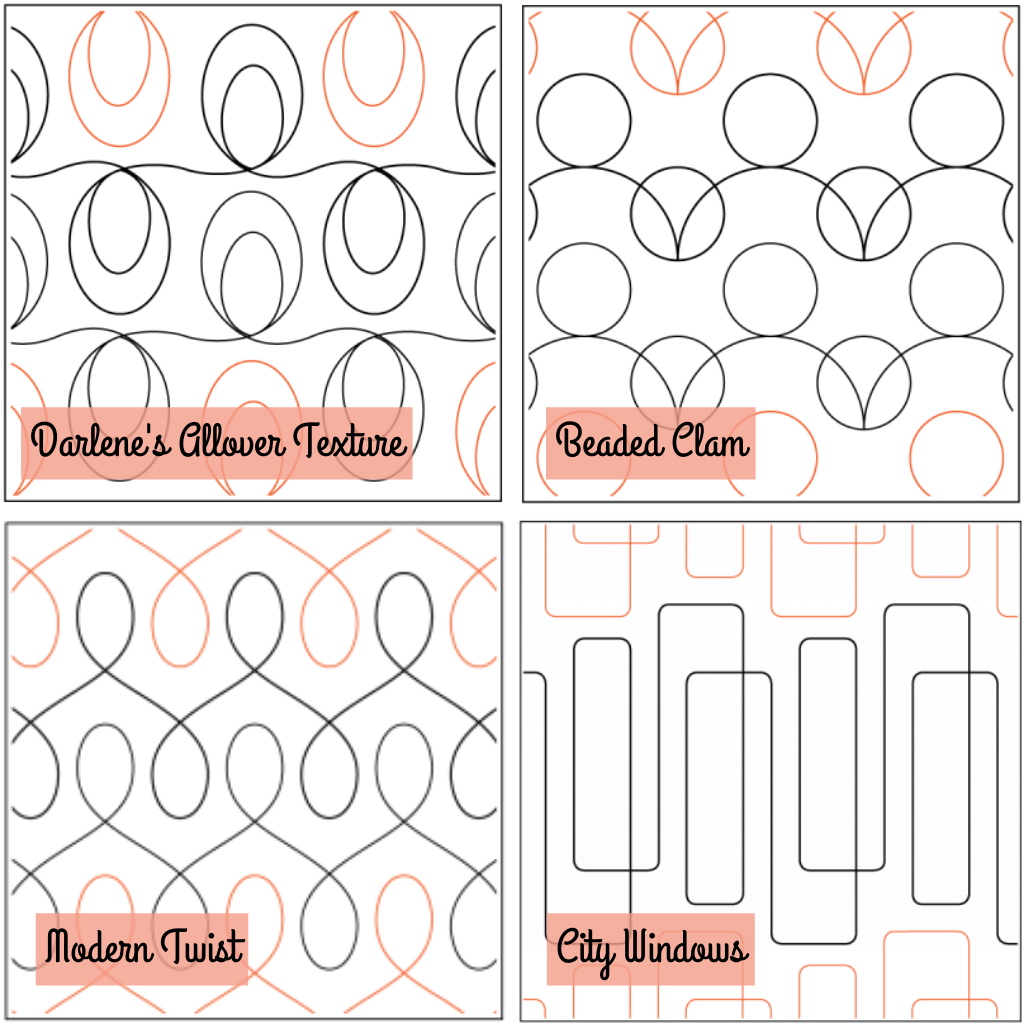 DARLENE'S ALL OVER TEXTURE: Here's a fun fact for you: this is the first pantograph I ever quilted out. When quilters come over to drop off a quilt they often notice my quilt and request this design. Another great loopy design but this time with more structure and repetition.
BEADED CLAM: Clamshell quilting is a traditional design going back centuries. This design has some circles, or beads added in for a slightly more modern look. I can quilt this design at a great price because the rows of clamshells do not touch making it easy to line up and to quilt out.
MODERN TWIST: Before I had a computerized machine I was tempted to get one just so I could quilt out this design. My brain loves seeing things quilted out in rows. It just makes me happy and it might make you happy too.
CITY WINDOWS: A really cool client suggested this design for one of her quilts recently, and while we ended up going a completely different direction I fell in love with this pantograph. It's a little bit modern, maybe even mid-century looking, a little bit geometric and a little bit organic and will look stunning even on an oversized scale.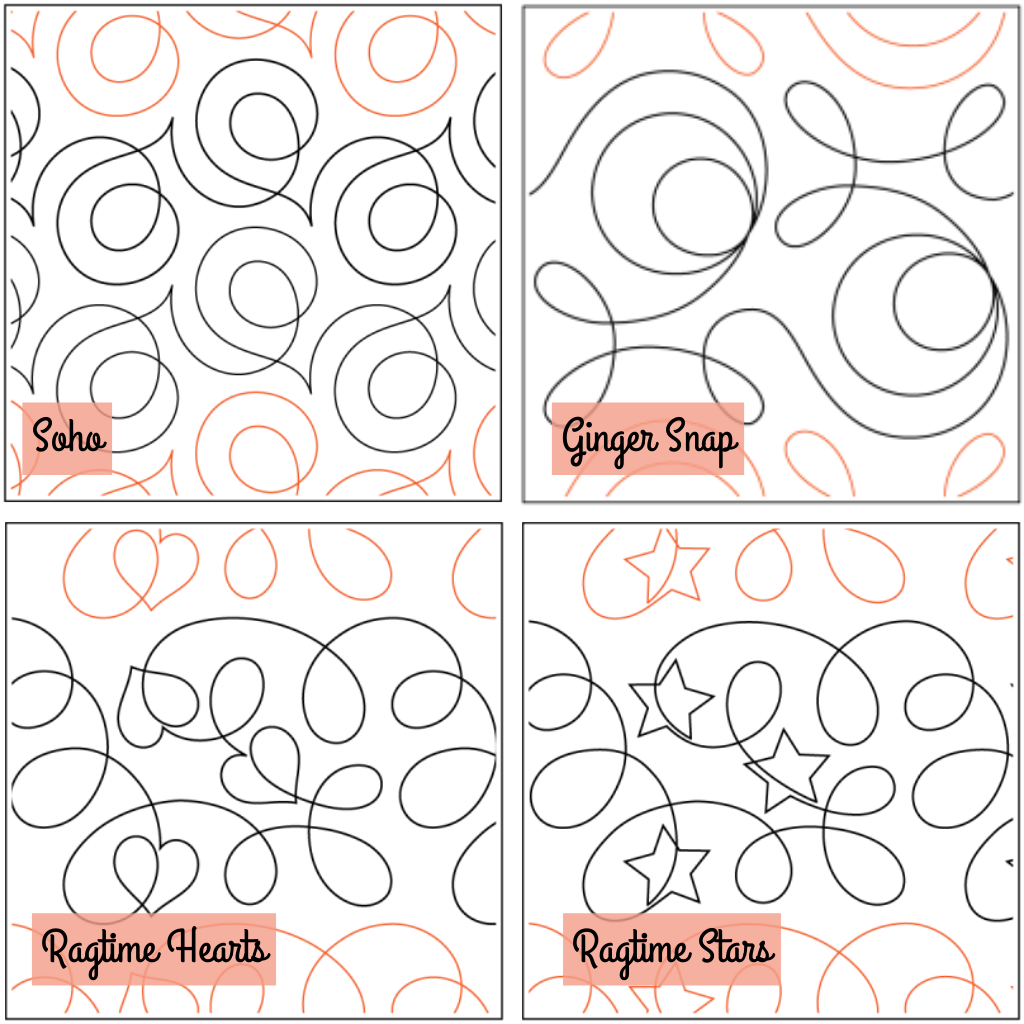 SOHO: This pantograph has happy and playful movement. It works well with most quilting styles and is a favorite pantograph among many longarm quilters. 
GINGERSNAP: I love the whimsical look of loops and combined with an echoed circle this pantograph has a vine and floral feel without actually being a flower.
RAGTIME HEARTS: Loops give a nice organic feel to a quilt without being to distracting. This design has a little heart for a personal touch. 
RAGTIME STARS: This design is both whimsical and dynamic. The curve of the loops next to the structure of the star makes a great combo. This design is amazing on patriotic quilts as well as quilts for little boys.
Backing and Batting Made Easy
If you are like most quilters, you have a stack of finished tops hiding in a closet. Maybe if you don't look at them they won't haunt you for not finishing them up. But you actually do want to finish them. You loved making them and would love to use them or give them away but you don't have backing fabric and you really hate binding too. Good news! I have a selection of fabric available in my shop that make great backings, (including minky) and great bindings. I am happy to piece your backing for a small cost, and binding service are available as well. No running to the fabric store or paying shipping on these fabrics twice, once to you and the to me. Let's get rid of those ghosts in the closet!
Let's get to work! Simple fill out my quilt request form here. Be prepared with the size of your quilt if you would like a quote. I will email you back in just a day or two. In the meantime make sure your quilt is ready for longarm quilting. You can read about quilt preparation here. Wanting an idea of cost before you feel like you want to commit? My current price list can be found here. Don't forget to follow me on Instagram for tons of quilty inspiration.