Market Stars Quilt Pattern
My name is Molly and I am addicted to stripes. When I look in my closet I see all stripes. I have caught myself wondering why stripes? And I have come to the conclusion that a lot of happy things are striped. Take window awnings at down town shops for instance. And then there are striped umbrellas on the beach. You know when it's freezing in March and all of your Instagram friends are posting unreal beach photos with colorful umbrellas? That's what I am talking about. This is the feel I wanted this Market Stars quilt to have. Happy stripes on the beach, or happy stripes at the circus or happy stripes at the market. 
I love quilts that are useful. This one will definitely be going to baseball games and football games and track meets. I chose white as more of an accent color so that the quilt will be more practical to use. It also gives me a great space to put some 
I pulled this happy stack of fabrics from my shop to create the Market Stars cover quilt. The fabrics I used in my quilts are a mix of Robert Kauffman fabrics. They include:
Kona Mustard
Kona Seafoam
Kona Gold
Kona Desert Green
Kona Artichoke
Kona Peach 
Kona Eucalyptus
Essex Yarn Dyed Graphite
Essex Yarn Dyed Limestone
Essex Yarn Dyed Indigo
Essex Homespun Charcoal
Essex Woven Stripe Chambray
Essex Woven Stripe Indigo
Essex Woven Stripe Steel
Crawford Stripe Mustard
Kitchen Window Wovens Lingerie
Kitchen Window Wovens Grellow
Kitchen Window Wovens Pickle
I have bundles available for a limited time. Click the button below to purchase.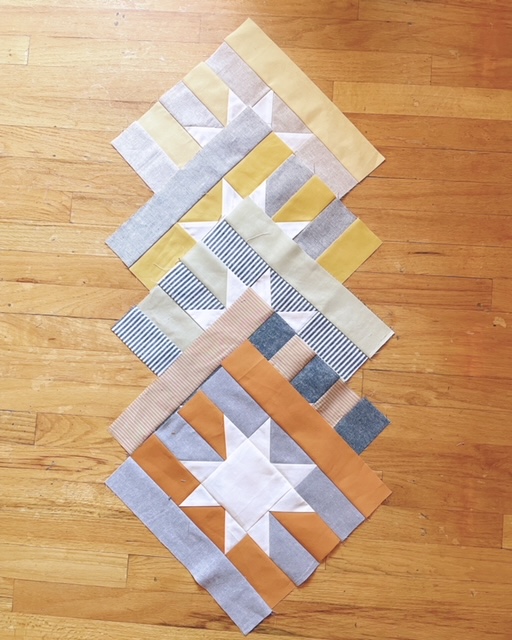 This pattern is written with three fabrics in each block. One fabric is for the star, and two accent fabrics that form the stripes of the star. I recommend choosing fabrics with a medium to high level of contrast for these blocks. I can see this quilt made with low volume stripes contrasted with a print and a solid star. It would also look great with a darker colored star and two medium to light colored accent fabrics for the stripes. The options are endless.
Options are what make a pattern really great in my opinion. This pattern comes in three sizes and has fabric requirement options too. Sizes include a baby quilt (48″x48″) a small throw (60″x72″) and a large throw (72″x84″.) You also have the option to use yardage, fat quarters, 2 1/2″ strips, or scraps to make this quilt!
I'm always curious what is required to make a quilt before I purchase the pattern. I hope you find the requirements for the Market Stars quilt useful. One thing I like to consider in my patterns is that there is plenty of fabric to work with but not a lot of waste. I was able to accomplish that with this pattern. It's time to raid your stash and see if you have some fabrics to start buidling a color pallette with!
Market Stars is easy enough for a beginner and fun enough for a more experienced quilter. This quilt does use flying geese which some quilters find a little challenging. If you follow the instructions I believe you can get perfect flying geese in this quilt. 
The Market Stars quilt pattern is written for three fabrics in each block. It includes two alternating colors for the stripes and one fabric for the stars. Because I give you a really good breakdown of what you need for each block, you can easily alter this pattern. One of my testers used one fabric for one of the stripe colors in all of her blocks. Some testers alternated the color of the stars. If you are wanting to push yourself to put your own spin on a pattern this is a great one to try it on!
Thank you for reading all about my cover version of the Market Stars quilt! Be sure to follow me on Instagram for more photos! I would love to share your Market Stars quilt so do not forget to tag me when you make your own!